Alien: Covenant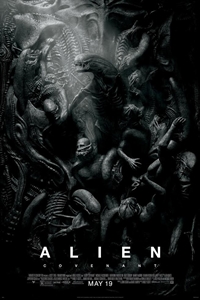 View Trailer
Release Date:
May 19th, 2017
MPAA Rating:
R
Runtime:
2 hr. 3 min.
Genres:
SciFi/Fantasy, Suspense/Thriller
Director:
Ridley Scott
Cast:
Michael Fassbender, Katherine Waterston, Billy Crudup, Danny McBride
Synopsis Bound for a remote planet on the far side of the galaxy, the crew of the colony ship Covenant discovers what they think is an uncharted paradise, but is actually a dark, dangerous world -- whose sole inhabitant is the "synthetic" David, survivor of the doomed Prometheus expedition.