White Boy Rick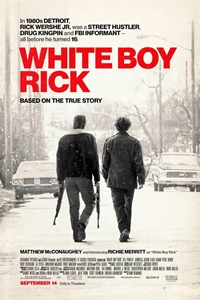 View Trailer
Release Date:
September 14th, 2018
MPAA Rating:
R
Runtime:
1 hr. 51 min.
Genres:
Drama, Suspense/Thriller
Director:
Yann Demange
Cast:
Matthew McConaughey, Richie Merritt, Bel Powley, Jennifer Jason Leigh
Synopsis Set in 1980s Detroit at the height of the crack epidemic and the War on Drugs, WHITE BOY RICK is based on the moving true story of a blue-collar father and his teenage son, Rick Wershe, who became an undercover police informant and later a drug dealer, before he was abandoned by his handlers and sentenced to life in prison.