The Darkest Minds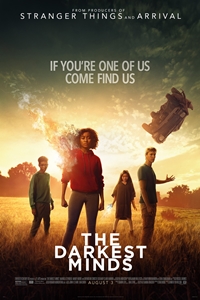 View Trailer
Release Date:
August 3rd, 2018
MPAA Rating:
PG-13
Runtime:
1 hr. 45 min.
Genres:
SciFi/Fantasy, Suspense/Thriller
Director:
Jennifer Yuh Nelson
Cast:
Amandla Stenberg, Mandy Moore, Gwendoline Christie, Patrick Gibson
Synopsis When teens mysteriously develop powerful new abilities, they are declared a threat by the government and detained. Sixteen-year-old Ruby, one of the most powerful young people anyone has encountered, escapes her camp and joins a group of runaway teens seeking safe haven. Soon this newfound family realizes that, in a world in which the adults in power have betrayed them, running is not enough and they must wage a resistance, using their collective power to take back control of their future.