A Quiet Place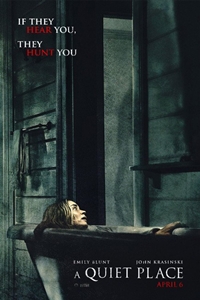 View Trailer
Release Date:
April 6th, 2018
MPAA Rating:
PG-13
Runtime:
1 hr. 30 min.
Genres:
Horror, Suspense/Thriller
Director:
John Krasinski
Cast:
Emily Blunt, John Krasinski, Noah Jupe, Millicent Simmonds
Synopsis In the modern horror thriller A QUIET PLACE, a family of four must navigate their lives in silence after mysterious creatures that hunt by sound threaten their survival. If they hear you, they hunt you.