Avengers: Endgame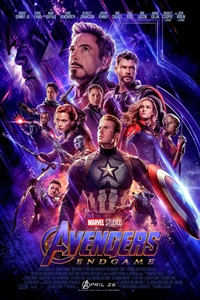 View Trailer
Release Date:
April 26th, 2019
MPAA Rating:
PG-13
Runtime:
3 hr. 2 min.
Genres:
Action/Adventure, SciFi/Fantasy
Director:
Anthony Russo, Joe Russo
Cast:
Robert Downey Jr., Chris Evans, Chris Hemsworth, Scarlett Johansson
Synopsis After events of Avengers: Infinity War, the universe is in ruins. With the help of the allies, the Avengers assemble once more in order to undo Thanos' actions and restore order to the universe.