It Lives Inside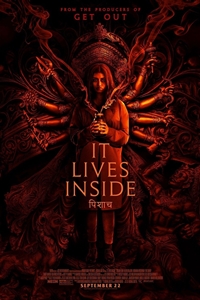 View Trailer
Release Date:
September 22nd, 2023
MPAA Rating:
PG-13
Runtime:
1 hr. 40 min.
Genres:
Horror, Suspense/Thriller
Director:
Bishal Dutta
Cast:
Megan Suri, Neeru Bajwa, Mohana Krishnan, Betty Gabriel
Synopsis Sam is desperate to fit in at school, rejecting her Indian culture and family to be like everyone else. When a mythological demonic spirit latches onto her former best friend, she must come to terms with her heritage in order to defeat it.